Committee Participation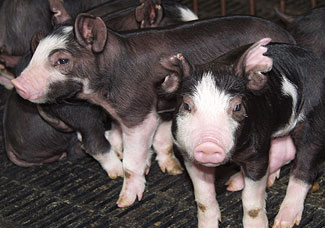 To join a committee, contact the Minnesota Pork office by e-mail mnpork@mnpork.com or (507) 345-8814.
Committee members can serve on multiple committees.
Committee members will be reimbursed for mileage to meetings.
These committees bring together shared interests of the Minnesota Pork Board and Minnesota Pork Producers Association. The committee members focus on programs and activities pertaining to their respective organization and the committee members allocate resources from financial line items specific to each organization.
Human Capital
The Human Capital Committee creates programs and resources for pork producers, employees, educators and future pork producers/industry leaders. Some of the programs guided by this committee:
Pork Ambassador Activities
PQA Plus and TQA training
Resource and material development
Educational seminars
Promotion and Image
The Promotion and Image Committee guides advertising, marketing and outreach to enhance the image of pork farmers and to create pork demand. Efforts are focused on consumers, decision-makers and youth. Some of the programs guided by this committee:
Agricultural literacy materials and Ag in the Classroom support
Consumer pork promotions
Nutritional education and pork preparation education
Advertising
State fair education (

Oink Booth

) and consumer outreach (

Pork Promotion Booth

)
Research and University Outreach
The Research and University Outreach Committee oversees research topics, research funding and building relationships with academic and research institutions. Functions of this committee:
Establish research priorities based on industry needs
Review research proposals and approve funding
Meet with leaders, faculty and other decision-makers at research and academic institutions
Public Affairs (open to MPPA members only) 
The Public Affairs Committee creates membership plans and structure, develops public policy, and acts upon legislative issues. This committee does NOT utilize mandatory Pork Checkoff dollars. Activities advised by this committee:
Legislative days at the state capitol
Legislative delegations to Washington, D.C.
Resolutions for consideration at annual MPPA business meetings
Interfacing with state agency staff
Inform and educate public and elected officials and their office staff on pork production issues
Pork Congress
The Pork Congress Committee guides the purpose and direction of activities and policies related to the annual Pork Congress tradeshow. Functions of this committee:
Site selection
Set tradeshow exhibit fees and sponsorship opportunities
Offer input on producer educational seminars