MPPA Hosts Representative Tom Emmer
The Minnesota Pork Producers Association hosted newly-elected Representative Tom Emmer and his Chief of Staff, David FitzSimmons, for a morning of conversation on current national and international policy issues affecting pig farmers.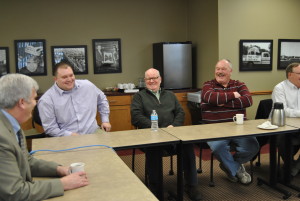 Emmer was recently appointed to the House Agriculture and Foreign Affairs Committees and will also be on sub-committees dealing with futures trading, livestock and energy. 
Topics covered in the meeting included Mandatory Country of Origin Labeling resolution, support for granting Trade Promotion Authority, the west coast shipping slowdown and oversight that will be needed on the new USDA dietary guidelines. 
Fourteen pig farmers along with MPPA staff were in attendance and enjoyed meeting with Rep. Emmer. If would like more information on what was discussed email David Preisler at david@mnpork.com 
https://www.mppainsider.org/wp-content/uploads/2019/12/mn-pork-producers-association-logo.png
0
0
Minnesota Pork Producers Association
https://www.mppainsider.org/wp-content/uploads/2019/12/mn-pork-producers-association-logo.png
Minnesota Pork Producers Association
2015-02-02 09:33:33
2019-12-18 10:17:27
MPPA Hosts Representative Tom Emmer