MPPA Hosts USDA Round Table
On Saturday, March 7, Congressman Jim Hagedorn (MN-01), USDA Under Secretary for Marketing and Regulatory Programs Greg Ibach, and Minnesota Pork Producers Association CEO David Preisler hosted a round table discussion with farmers and producers at the Minnesota Pork office in Mankato.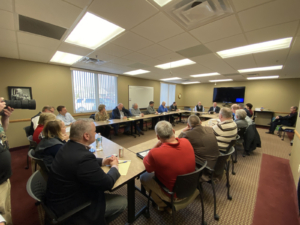 One of Rep. Hagedorn's top agriculture priorities is to make sure federal agencies are equipped with the necessary tools to combat Foreign Ag Diseases (FAD), such as African Swine Fever (ASF), High Path Avian Influenza (HPAI) and Foot-Mouth Disease (FMD). This forum provided a great opportunity for members of southern Minnesota's agriculture community to discuss the issues impacting their daily lives. The roundbtable also discussed trade policy, plant health issues, price reporting, FDA issues and a general update from Washington.
Prior to the roundtable, Rep. Hagedorn and Under Secretary Ibach the Compart Family hosted a tour of Compart's Boar Store, their family farm near Nicollet, Minnesota.
KEYC Channel 12 in Mankato provides this report.
https://www.mppainsider.org/wp-content/uploads/2019/12/mn-pork-producers-association-logo.png
0
0
Minnesota Pork Producers Association
https://www.mppainsider.org/wp-content/uploads/2019/12/mn-pork-producers-association-logo.png
Minnesota Pork Producers Association
2020-03-09 12:12:03
2020-03-09 13:01:42
MPPA Hosts USDA Round Table